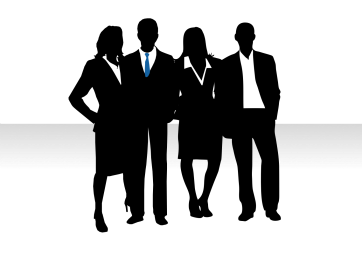 An organization's vision of change is realized through its people.  A new strategy might light up the way, processes can be adapted and systems integrated but unless the individuals who comprise the organization embrace it all it is unlikely that the change program will deliver its objectives.
In order to mitigate this risk a cast of characters will need to bring different skills together to support the organization's individuals moving from old ways of working to new.
The roles in this methodology form one part of the methodology triangle.  Processes define what you need to do and how to do it, roles tell you who needs to do it and deliverables are what you produce.
Each of the roles describe responsibilities and skill-sets which can then be assigned to an individual and associated with processes and deliverables. An individual may be associated with one or more roles and a role may also be shared by more than one individual.
Identify and analyse requirements
Design new business processes, performance goals and metrics
Define business solutions and structures
Define opportunities to create business value
Work with cross-disciplinary teams to create comprehensive change solution

Define and assess impact of change; develop and maintain change management plan
Review business process design to assess organization and role impacts
Conduct culture change analysis and coordinate delivery behavior change plan
Define change measurement plan and develop or source change measurement instrument
Monitor change progress and highlight where corrective action needed
Facilitate future state definition
Define change program governance
Understand and evaluate impact of change on stakeholders
Develop change management interventions to mitigate impact and risk of change
Design and deliver change leadership assessment
Prepare and execute change leadership activity plans to support program requirements
Coordinate change coaching activities to support change leaders
Conduct culture change analysis and coordinate preparation of behavior change plan
Define business readiness approach, scorecard and tools
Monitor change progress and suggest interventions where appropriate
Define performance issues that to be addressed by change programdefine future state through alignment of capability and behavior requirements; define change program governance; evaluate change impact assessment and develop change management interventions to build commitment and capability; develop change risk mitigation options
Develop change management strategy and define master change management plan; coordinate change leadership assessment, activity planning and coaching; coordinate training and knowledge strategy and plan; review relevant legal and regulatory requirements arising from the change program; review future state process design, role and job impacts and adapted organization design structures; support transition to ne organization design structures
Coordinate culture change analysis and behavior change planning; define approach to change measurement, choice of instrument and change measurement plan; evaluate change measurement reports and decide where and how additional change management interventions should be applied; define business readiness approach and oversee development and use of scorecard and measurement tools; understand and plan for change program exit criteria; support change program deployment and post-deployment activities to ensure people and organization adopt and embed the change

Gather information from across the organization to support development of deployment approach and plan
Support the deployment lead and others to execute the deployment plan
Identify, classify and define deployment requirements
Develop deployment approach and plan
Agree budget and resources with project, change and additional relevant teams
Address deployment issues across multiple releases, business units and interdependencies
Liaise with executive sponsors and change leaders from an early stage to ensure commitment and organizational readiness for change
Evaluate training and knowledge readiness for deployment
Design and develop pre-deployment simulation of change solution
Contribute to change program quality reviews
Ensure deployment work stream adheres to quality management standards

Conduct dialogue with C-suite executives on the strategic context for change, opportunities, risks and associated issues
Involve senior executives in shaping the vision for change and high level change journey planning
Evaluate organizational capability and stakeholder commitment for anticipated change journey
Define overall criteria for success or failure or the change program
Facilitate the sharing of change best practices and principles amongst senior executives
Monitor change progress and ensure on-going alignment between change program activity and change program objectives
Visibly demonstrate support and commitment for change program (time, authority, budget, resources etc)
Act as point of escalation for business readiness and deployment issues and risks

Identify and analyze key information from across the organization to support HR planning and activity within the change program
Support the alignment of performance and talent management processes with the change program objectives
Support the implementation of new organization structures and deployment activity
Develop HR-oriented change interventions to address impact of change
Contribute to development and maintenance of change management strategy and plan
Align change leadership activity with existing leadership framework and protocols
Identify and communicate HR policies and processes, employee and union relations as well as local and international legal and compliance factors arising from the change program
Coordinate discussion with employee forums and union bodies where appropriate
Facilitate organization design activities including job definition, job design, role mapping and team design
Facilitate estimate of new organization size
Align performance management and talent management processes with change program objectives
Prepare inventory of key talent, redundant roles and talent management plan necessary to achieve change program objectives
Contribute to culture change analysis, behavior change planning and organization transition planning

Training and Knowledge Analyst
Identify and analyze key information from across organization to support definition of future skills requirements
Prepare and deliver current skills assessment to measure baseline skills
Conduct skills gap analysis
Facilitate the development of a training and knowledge strategy and plan
Work with subject matter experts and others to design training and knowledge solution
Develop and/or source training and knowledge material
Co-ordinate delivery and evaluation of the training solution
Training and Knowledge Manager
Develop training and knowledge management oriented change interventions to address impact of change
Contribute to development and maintenance of change management strategy and plan
Identify future state knowledge and skill requirements
Conduct current state knowledge and skill assessment
Prepare skills development plan to address gap between current and future skills requirements
Create training and knowledge strategy and plan to support employees' new ways of working
Co-ordinate design, development, delivery and evaluation of training and knowledge solution
Communicate training and knowledge requirements to performance management, talent management and other work streams
Provide input into culture change analysis and behavior change planning work

Organization Design Analyst
Identify and analyze key information from across organization to support design of new organization structures
Review future state process design for role and organizational impacts
Facilitate job and team design activity as well as mapping of roles to jobs and reporting relationships
Facilitate alignment of organizational structures with talent management, performance management and other process design areas
Provide support during transition from current to future state organization design
Organization Design Manager
Design new organization structures to meet objectives of change program
Contribute to development and maintenance of change management strategy and plan
Evaluate future state process design for role and organizational impacts
Co-ordinate job and team design activity as well as mapping of roles to jobs and reporting relationships
Contribute to estimate of future state organization size
Work with others to align organizational structures with talent management, performance management and other process design areas
Review key talent inventory and redundancy proposals for impact on organizational structures
Align organizational structures with desired culture
Develop transitional structures where appropriate to support smooth transition from current to future state

Define project approach, timeline, tasks and resources
Sign off assumptions underpinning project planning
Allocate roles and responsibilities; validate project plans with sponsors and stakeholders
Ensure project resources have necessary skills and ensure training provided where necessary
Communicate project scope, requirements, plans, resources, training etc.
Maintain project plan
Track progress to ensure time, cost, quality, scope and risk factors are balanced
Take corrective action where appropriate
Manage change of scope requests through agreed process
Act as project team point of contact within governance framework; contribute to quality management reviews
Deliver project capability and business benefits anticipated
Overall responsibility for program approach, performance of program team and delivery of program capabilities
Work with change team to establish program sponsorship and governance structures
Monitor, mitigate and manage issues and risks
Escalate via change governance structures where necessary
Ensure sponsors provided with regular and timely insights into program performance
On-going management of program performance to ensure program benefits delivered within agreed time, cost and quality parameters;
Develop and/or approve contingency plans where appropriate
Evaluate impact of program changes on business case
Communicate revised benefits and value where appropriate
Act as key point of contact for executive sponsor and change governance team
Co-ordinate program management operations
Track program timelines, dependencies and milestones

Stakeholder Engagement Analyst
Identify and analyze key information from across organization to support stakeholder analysis activity
Develop change governance structure roles and responsibilities
Support development of change governance structure
Identify potential candidates for change network
Draft change network roles and responsibilities
Develop change network education material
Support change network participants in understanding and fulfilling their roles
Support development of stakeholder communication strategy, plan and evaluation deliverables
Stakeholder Engagement Manager
Identify key individual and group stakeholders
Understand their hopes, fears and motivations
Assess current levels of commitment and influence over success of change program
Provide change impact assessment to categorize and evaluate impacts of change by stakeholder or stakeholder group
Describe change management interventions to address identified impacts
Suggest additional risk mitigation options per stakeholder group
Contribute to development and maintenance of change management strategy and plan
Create stakeholder communication strategy, plan and evaluation deliverables
Identify candidates, roles and responsibilities for the change network
Help coordinate development and delivery of stakeholder interventions
Help shape culture change analysis and behavior change planning
Suggest change measurement and business readiness metrics relating to stakeholder engagement