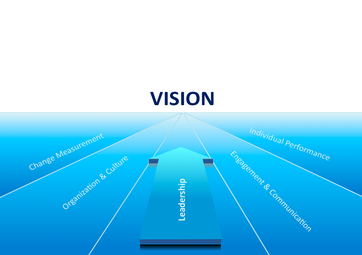 A change management strategy should be compelling and consistent with a vision of the future business environment, and the implications for the future state of the organization.
The processes here aid clarity of thinking in this respect and define measurable targets for the change project or programme. It also offers an opportunity to collaborate with employees across the organization so that vision and strategy of the future state of the organization is a collective one.
The visioning activity shouldn't be undervalued as lightweight or unnecessary. At some point in the future, as the change programme progresses and we get into the nitty-gritty, you will be glad to have captured this reference point.
Key Change Question:
What do we think the future business environment will look like and how do we want to be as an organization in advance of reaching it?
Define clear and compelling picture of future organization
Evaluate gap between current and future organization
Develop high-level road-map for change

Identify capability requirements to drive change organization
Unite around clear understanding of what's driving the change and a shared vision of the future
Absence of shared purpose, no clear target or forward direction
People and organizational capability lag behind imperative for change
Specify decision rights and accountability framework for change program
Align with existing project and organization governance structures

Supports decisive change leadership
Enables clear accountability for change program
Provides quality assurance and path to escalate issues and risks
Lack of 'joined-up' change management strategy and plan
Change solution disconnected from wider organization and/or end user needs
Resistance to change builds, progress towards future state obstructed
Describe reasons for changing, what you want to achieve and how you will get there

Change Management Strategy underpins plan and all subsequent activity

Compile a concrete business case describing both the financial and no-financial benefits of the change effort
Describe the overall approach to managing the impact of change
Disconnect between change vision and best path to building new capabilities
No clear alignment of financial and non-financial benefits and risks of change program
Capture people and organizational impacts arising from the change being introduced
Critical input into change management strategy and plan

Rank the type and magnitude of change impacts for each stakeholder group
Support change leadership with clear insights into challenges and reduce risk
No clear understanding of people and change impacts, no basis for strategy and plan, significantly higher risk of project failure
Define sequence of tasks, activities, deliverables and resources required to execute change strategy

Apply project management discipline through phases, workstreams, decision points and milestones

Describe in concrete terms how change strategy will be executed
Facilitate successful transition of people and organization elements of the program from current to future state
Lack of alignment between strategy and solution, stakeholders become disengaged, increased costs of higher risk of project failure